---

Forex Money Management = Trade safe building stable gains
Money management is the way Forex traders control their money flow: literally "IN or OUT of their pockets..."
Money management is simply the knowledge and skills on managing own Forex account.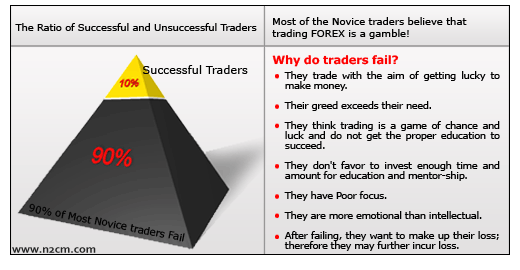 Forex brokers will rarely educate traders on good money management skills, though almost all brokers will offer some sort of basic tutorials, therefore it's important to also learn on your own.
There are several rules of good money management:
1. Risk only small percentage of a total account
Why is it so important?
The main idea of the whole trading process is to survive!
Survival is the first task, after which comes making the money.
One should clearly understand that good traders are, first of all, skillful survivors. Those who also have deep pockets can additionally sustain larger losses and continue trading under unfavorable conditions, because they are financially able to. For an ordinary trader, the skills of surviving become a vital "must know" requirement to keep own Forex trading accounts "alive" and be able to make profits on top.
Let's take a look at the example that shows a difference between risking a small percentage of capital and risking a larger one. In the worst case scenario with ten losing trades in a row the trading account will suffer this much:
Trades
Account balance
Risking 2%
of total account per trade
1
Start — 5000
100
2
4900
98
3
4802
96
4
4706
94
5
4612
92
6
4520
90
7
4430
89
8
4341
87
9
4254
85
10
4169 — 17% of the account has been lost
Trades
Account balance
Risking 10%
of a total account per trade
1
Start — 5000
500
2
4500
450
3
4050
405
4
3645
364
5
3281
328
6
2953
295
7
2658
265
8
2392
239
9
2153
215
10
1938 — over 60% of the account has been lost

Apparently, there is a big difference between risking 2% and 10% of the account balance per trade:
A trader who has made 10 trades while risking only 2%, under the worst conditions would lose only 17% of his initial investment.
The same trader who had been exposing 10% of the balance per trade would end up losing over 60% of his initial investment.
As you can see — the money management approach vs unguided trading — can have serious consequences for unsuspecting traders.
---